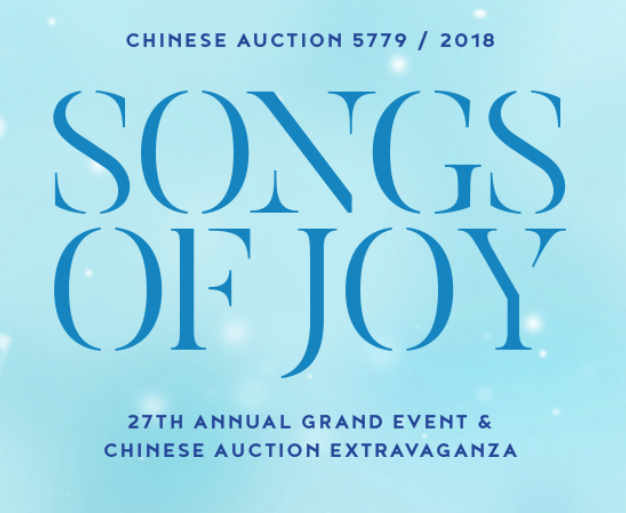 Mark This Date on Your Calendar as BOOKED!
Sunday November 4th at Ateres Chynka in Brooklyn, NY.
The 27th Annual Grand Event and Chinese Auction "Songs of Joy" will entertain you and the family all day long!
Your entire Sunday will be filled with fun, flavor and flair.
There will be a childrens schedule (12 Noon – 4:30 PM) with Uncle Moishy live in concert, Creative Cookie Decorating with Suri Messner of The Cakery and Story telling by Rabbi Yitzy Erps who will leave your children spellbound and amazed.
An Evening program for Women and Girls will begin at 5 PM.
Step by step Makeup Guide by the famous Yehudis Geffner, Learn from the Professional "Overtime Cook" Miriam Pascal how to make professional Miniatures for Simchas and Parties!
Then the famous Naomi Nachman, renowned cookbook and author and radio host, "Table for Two".
Finally, the night wraps up with Lots of Laughter with Malkie Knopfler.
The Auction showcases an incredible variety of 123 massive prizes that YOU WANT TO WIN.
Enter by visiting www.joyauction.org or live at the event.
There will be valet parking for your convenience.
About Us:
YESHIVA DERECH CHAIM is a Bais Hamedrash and Kollel with close to 200 students from cities in the United States and many Jewish communities throughout the world. The Yeshiva maintains a staff of 20 Rebbeim and varying levels of shiurim designed to develop close Rebbe-Talmid relationships forging a bond as lifetime mentors. The Yeshiva has been successful in its 43 years of existence in developing Bnei Torah who are a pride to the Yeshiva and to Klal Yisroel. Graduates of Yeshiva Derech Chaim have greatly contributed to the community in the capacity of Rebbeim and administrators in prominent Yeshivas and day schools and as businessman and laymen committed to Torah and the Klal.
The Annual Chinese Auction is in loving memory of Avi Levine, a'h. This evening is being dedicated by Dina Levine and family in memory of their son and brother, Avi, a'h. The tzedaka raised tonight is in the z'chus- merit of this very special young man, who was taken from our midst at a young age. Avi's short life typified true happiness and joy; his supreme well-being and good spirits was contagious. It was this middah, trait, that all who met him could feel, that made him beloved by all that knew him.