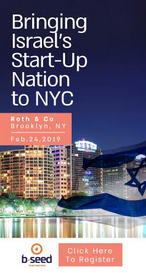 This Sunday: The Start-up Nation Visits NYC
Don't Miss Out on This Opportunity to Meet Israel's Top Start-ups
New York, February 21, 2019
Bseed, an investment company based in Israel, is hosting a series of events for prospective investors in New York.  The events, which are being produced in collaboration with Roth & Co., one of the largest accounting firms in New York, and Reinhold Cohn, the largest intellectual property law firm in Israel, seek to bring Israel's top start-ups and New York-based investors together at several events this weekend.
The company was founded in Israel six years ago as part of the Besadno Investment Group.  After seeing successes in Israel, Besadno opened a branch in the United States in 2016.  The group is led by Baruch Eliezer Gross, an Israeli businessman with many years of experience in both European and American markets.  The group has invested in approximately 40 companies in a variety of fields, offering models of direct investment, crowd funding, as well as integrated models.
As a company based in Israel, the group has access to some of newest innovations and technologies before they are available in the rest of the world.  Israel, with the highest GDP spending per capita on R&D, leads the world in development of new medical technologies while ranking third globally in the absolute number technology-based start-ups.
In addition to its prior investments in Israel-based technologies, Bseed is proud to launch BuiltUp, a venture capital fund focused entirely on Israeli building and construction technologies.  The launch of BuiltUp is part of Bseed's events in New York this weekend.
The first day of meetings took place today, Thursday February 21st.  Due to the high demand of participants to learn more about the top ten start-ups that attended today's event, a second day of meetings has been scheduled for this Sunday, February 24th. The event will take place at Roth & Co, 1428 36th Street, Suite 211, from 12 – 4 PM.
Interested in investing with Bseed? Find out more about Bseed here and register for Sunday's event: