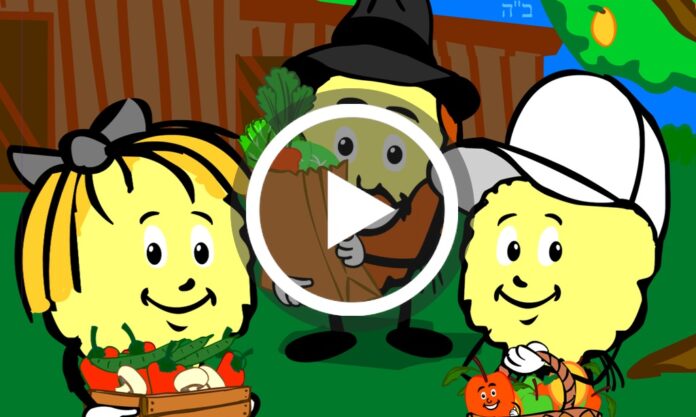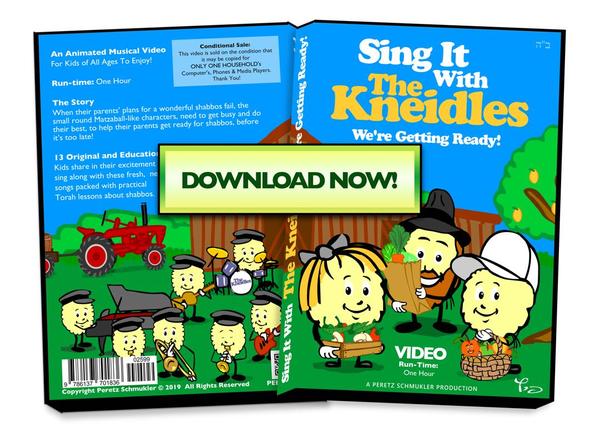 Why Parents Love The Kneidles.
Because "The Kneidles" is a one of a kind, 60 minute long, Animated Musical for kids that is packed with fun, educational Torah lessons about getting ready for Shabbos, full of great attitude and positivity.
Why Kids Love The Kneidles.
Because this Animated Musical features over 13 original fun educational songs that were written and composed from scratch! These are not songs taken from "other sources," they're upbeat, and easy for parents and kids to sing along to.
The Kneidles Song List:
1. Singing With The Kneidles.
2. Listen To This Story.
3. We're Going To The Country.
4. Shulchan Aruch.
5. Clean Up Time.
6. Shabbos Challah.
7. Kiddush Wine.
8. Pick Picking Vegetables.
9. Fish A Fish.
10. We're Getting Ready!
11. Candles.
12. Shabbos Medley.
13. Time To Say..
14. Listen Friends..
What's The Story Line?
When their parents' plans for a wonderful Shabbos fail, the small, round, Matzaball-like characters need to get busy and do their best to help their parents get ready for Shabbos, before it's too late!
How Can We Watch The Kneidles Animated Musical?
You can watch it on any of your own Computers, Laptops, Androids, Tablets and Media Players. Unlike DVDs, the MP4 Video File can't get scratched or cracked. You just download it to your Home Computer, Laptop or SD Card.
It plays on Mac, PCs, laptops, Phones, Tablets, Screens with Chromecast, USB & SD inputs, and most Media Players.
How Long Does it Take to Download?
Depending on your Internet speed, 2 – 3 min. Then, you and your kids can start watching instantly!
Now Available Exclusively From PERETZ.CA
Here's a small sample of the hour long Animated Musical: