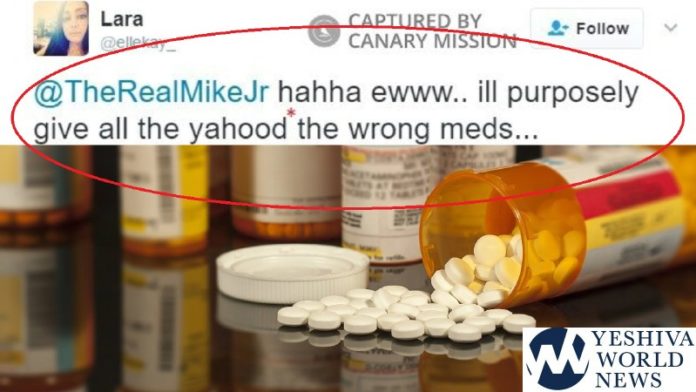 Some pretty disturbing social media comments from a "Dr Lara Kollab" have gone viral on social media in the past 24 hours. Along with the screenshots of the hate messages, there was a call for people to demand she be fired from the "Cleveland Clinic" in Cleveland, Ohio.
YWN spoke to employees at the Clinic, and in fact, she has long been fired from her job at the Clinic. She started at the Clinic on July 1 2018 and when this was discovered in September she was immediately fired.
Kollab was an Internal Medicine Resident at the Clinic for a short period of time until her hate messages were brought to the attention of her bosses who quickly canned her.
Among her highly-disturbing messages she posted years ago on social media reads:
On January 2, 2012, Kollab tweeted: "hahha ewww.. ill purposely give all the yahood [Jews] the wrong meds…"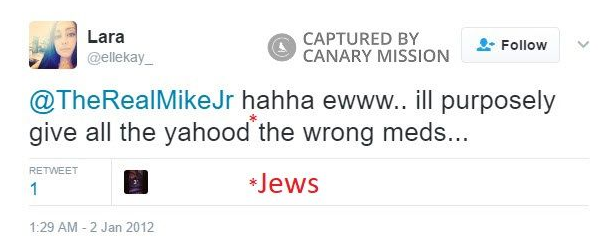 A full list of her hate can be seen here.
The following is a statement given to YWN on Monday:
December 31, 2018
"This individual was employed as a supervised resident at our hospital from July to September 2018. She is no longer working at Cleveland Clinic. In no way do these beliefs reflect those of our organization. We fully embrace diversity, inclusion and a culture of safety and respect across our entire health system."
Abby L Spencer MD, MS, FACP
Director – Internal Medicine Residency Program Vice Chair of Education – Medicine Institute
Associate Professor of Medicine, CCLCM
Cleveland Clinic | 9500 Euclid Ave. | Cleveland, OH 44195
All her messages have since been deleted from Social media after she was exposed.
It should be noted that this is (one) of the only major Internal medical programs in the United States that will formally allow Frum residents be Shomer Shabbos, and there is no trace of Anti-Semitism whatsoever in the Clinic. There are multiple Frum employees who have nothing bad to say in anyway of their work environment. In fact, they are openly recruiting additional Frum Doctors.
(Yossi Taub – YWN)