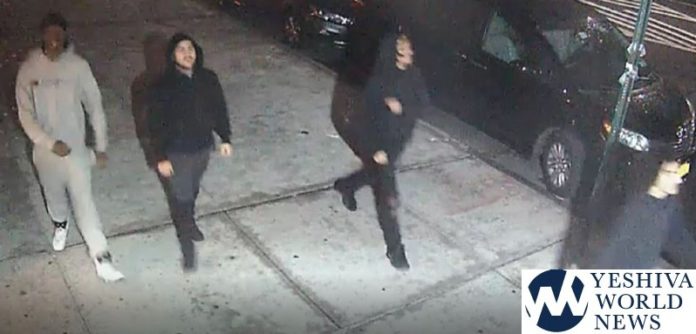 As YWN reported earlier this week, a Hasidic Williamsburg man was punched in the face in an anti-Semitic attack. Now, the NYPD is releasing footage of the suspect's as well as additional details.
The NYPD says that on Shabbos at approximately 1:15AM, a 42-year-old Hasidic man – wearing "traditional Hasidic garb" (Shtreimel and Bekeshe) was walking in the vicinity of Broadway and Lynch Street, when he was assaulted and punched in the by a group of males. The group also made anti-Semitic comments to the victim, including "you (expletive removed) Jew!".
The individuals fled on foot eastbound on Broadway. The victim sustained bruising and swelling to his face. The victim did not seek medical attention. The NYPD's Hate Crime Task Force is investigating. The individuals are described as follows:
Three male Hispanics, early 20's wearing all black. One male Black, early 20's, wearing a black du-rag and gray sweat suit.
Anyone with information in regard to this incident is asked to call the NYPD's Crime Stoppers Hotline at 1-800-577-TIPS (8477) or for Spanish, 1-888-57-PISTA (74782). The public can also submit their tips by logging onto the CrimeStoppers website at WWW.NYPDCRIMESTOPPERS.COM, or on Twitter @NYPDTips.
[MORE HATE IN WILLIAMSBURG: Hasidic Man Punched in the Head on Marcy Avenue [SEE THE VIDEO]
[HATE IN FAR ROCKAWAY: Two Black Men Yell "KILL THE JEWS" at Yeshiva Boys Posing For Class Picture]
[ANTI-SEMITE WITH A BADGE: NYPD Traffic Cop Says "You STUPID JEW You Can't Make A Right Turn" [VIDEO]
(YWN World Headquarters – NYC)