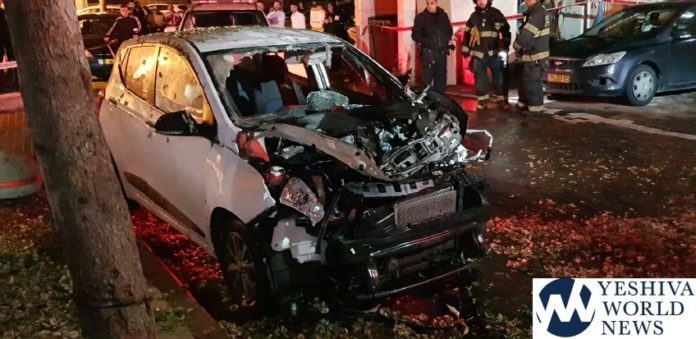 Police report that they arrested a number of suspects involved in criminal activity against the Israel Prison Authority (IPA), in this case pertaining to the placement of a bomb under the home of an officer serving in the IPA intelligence branch and lives in Elad.
About a month ago, hundreds of Elad residents were awakened to the sound of a blast, as a bomb was detonated on Rav Nissim Gaon Street. It did not take too long to determine the bomb was placed near the vehicle of the officer who lives in Elad, as reported by YWN-Israel, explaining the officer was targeted for his involvement in punishing certain inmates.
Regarding the bomb in December 2018, YWN-Israel reported "Journalist Moshe Glasner, a resident of the city, tweeted Thursday morning, 'At 3:00AM, a powerful blast rocked Elad. A bomb was attached to a vehicle. The target was a resident of the building, an officer in the Israel Prison Service. Welcome to Elad, the new target of crime'".
Today, Tuesday, January 15, 2019, police permitted reporting the arrest of suspects involved in a number of incidents, including:
The placement of a bomb under the vehicle of an IPA officer who lives on Itamar Ben Avi Street in Netanya, and there was damage caused.
An attack on 30 October 2018
The detonation of the bomb on 13 December 2018.
In the last two cases, they thought they identified vehicles belonging to IPA personnel, but that erred and targeted the wrong cars.
The suspects are from Ohr Yehuda and Holon, a total four persons ranging in age from 24-29.
(YWN Israel Desk – Jerusalem)