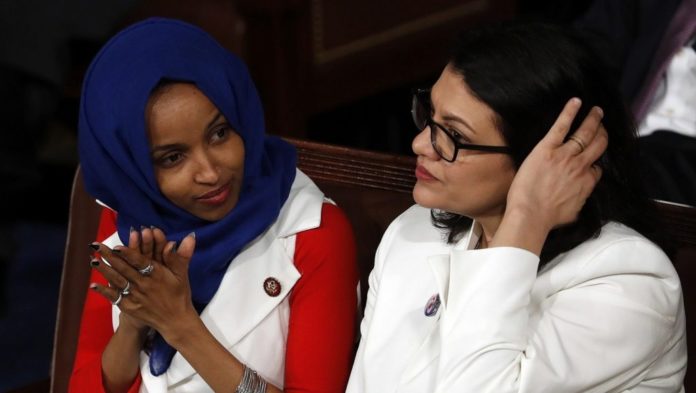 Israel's deputy foreign minister says the government has decided to bar two U.S. Democratic congresswomen who support the international boycott movement from entering the country.
Tzipi Hotovely told Israel Radio in an interview Thursday that "Israel has decided not to allow" Reps. Rashida Tlaib of Michigan and Ilhan Omar of Minnesota to visit as planned.
She says it is in keeping with a policy of denying entry to those who advocate boycotts of Israel.
Her remarks came shortly after President Donald Trump tweeted that "it would show great weakness" if Israel allowed them in.
The two newly-elected Muslim members of Congress are outspoken critics of Israel's treatment of the Palestinians. Tlaib's family immigrated to the United States from the West Bank.
Prime Minister Benjamin Netanyahu Released a statement defending Israel's decision:
"No country in the world respects America and the American Congress more than the State of Israel.
As a free and vibrant democracy, Israel is open to critics and criticism, with one exception: Israeli law prohibits the entry into Israel of those who call for and work to impose boycotts on Israel, as do other democracies that prohibit the entry of people who seek to harm the country. In fact, in the past the US did this to an Israeli member of Knesset, as well as to other public figures from around the world.
Congresswomen Tlaib and Omar are leading activists in promoting the legislation of boycotts against Israel in the American Congress. Only a few days ago, we received their itinerary for their visit in Israel, which revealed that they planned a visit whose sole objective is to strengthen the boycott against us and deny Israel's legitimacy. For instance: they listed the destination of their trip as Palestine and not Israel, and unlike all Democratic and Republican members of Congress who have visited Israel, they did not request to meet any Israeli officials, either from the government or the opposition.
A week ago, Israel warmly welcomed some 70 Democratic and Republican members of Congress, who expressed broad bipartisan support for Israel, which was also demonstrated a month ago in a resounding bipartisan vote against BDS in Congress.
However, the itinerary of the two Congresswomen reveals that the sole purpose of their visit is to harm Israel and increase incitement against it.
In addition, the organization that is funding their trip is Miftah, which is an avid supporter of BDS, and among whose members are those who have expressed support for terrorism against Israel.
Therefore, the Minister of Interior has decided not to allow their visit, and I, as Prime Minister, support his decision.
Nonetheless, if Congresswoman Tlaib submits a humanitarian request to visit her relatives, the minister of interior has announced that he will consider her request on the condition that she pledges not to act to promote boycotts against Israel during her visit."
Minnesota Rep. Ilhan Omar says Israel's move to block her and Michigan Rep. Rashida Tlaib from visiting the country is "an insult to democratic values."
Omar says in a prepared statement that Israel's move Thursday is the equivalent of President Donald Trump's effort to block travel to the U.S. from Muslim-dominated countries. And she says denying entry "not only limits our ability to learn from Israelis, but also to enter the Palestinian territories."
The Minnesota Democrat says the move isn't a surprise given that Prime Minister Benjamin Netanyahu "aligned himself with Islamophobes like Donald Trump."
The U.S. Ambassador to Israel David Friedman said in a statement that Israel "has every right to protect its borders" against promoters of boycotts "in the same manner as it would bar entrants with more conventional weapons."
Friedman says that the movement calling for boycotts, divestment and sanctions against Israel "is no less than economic warfare designed to delegitimize and ultimately destroy the Jewish State."
House Speaker Nancy Pelosi slammed the decision to deny admission to two Muslim-American congresswomen, calling the snub "beneath the dignity of the great State of Israel."
The California Democrat, long a supporter of Israel, also said President Donald Trump's statements attacking liberal Democratic Reps. Rashida Tlaib and Ilhan Omar and encouraging Israel to block their planned visit is "a sign of ignorance and disrespect, and beneath the dignity of the Office of the President."
Pelosi noted that Israel's ambassador to the U.S., Ron Dermer, recently said that Israel would not deny any members of Congress from entering the country. She called the reversal "sad" and "deeply disappointing."
Majority Leader Steny Hoyer of Maryland said the decision "outrageous" and "wrong." He called Israeli Prime Minister Benjamin Netanyahu and urged him to reconsider.
Top ranking Senate Democrat Chuck Schumer of New York said Israel's decision was a sign of weakness instead of strength and "will only hurt the U.S.-Israeli relationship and support for Israel in America."
A close freshman colleague of the two lawmakers, Ayanna Pressley of Massachusetts, said Israel's move is "bigoted, short sighted and cruel."
*****PLEASE NOTE: Make sure you are one of the more than 20,000 that signed up to YWN WhatsApp Status to receive news in live time. Click this link – or send a message to 1-888-4-YW-NEWS (888-499-6397) – to see our status posts*****
It would show great weakness if Israel allowed Rep. Omar and Rep.Tlaib to visit. They hate Israel & all Jewish people, & there is nothing that can be said or done to change their minds. Minnesota and Michigan will have a hard time putting them back in office. They are a disgrace!

— Donald J. Trump (@realDonaldTrump) August 15, 2019
Israel doesn't advance its case as a tolerant democracy or unwavering US ally by barring elected members of Congress from visiting because of their political views. This would be a shameful, unprecedented move. I urge Israel's government to allow @IlhanMN and @RashidaTlaib entry.

— Elizabeth Warren (@ewarren) August 15, 2019
(AP)