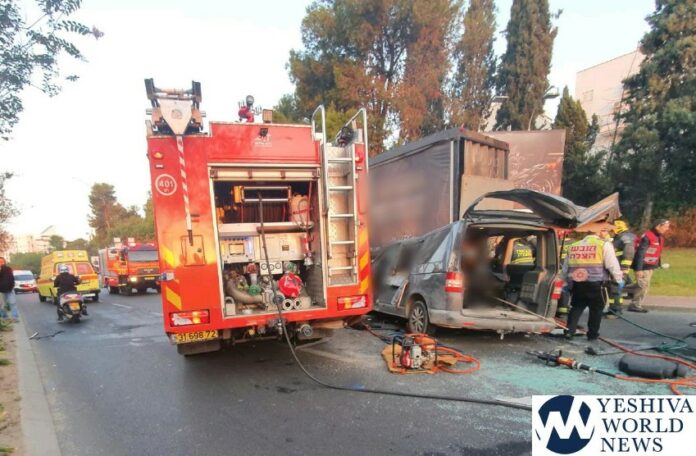 (PHOTOS IN EXTENDED ARTICLE)
A horrific accident occurred on Sunday morning between a minibus and a truck near Aluf Sadeh Interchange westbound, in Ramat Gan, claiming the lives of two persons and leaving six others injured.
Rescuers operated on the scene and despite tenacious efforts to extricate two critically injured persons, they were pronounced dead on the scene. Six additional victims, in their 30s, were treated on the scene. Two were listed in serious condition, three in moderate condition and one light. Police closed down the road to facilitate treating the victims, which included extrication of some of the victims from the twisted remains of the vehicles.
United Hatzalah EMT Betzalel Sabag explained, "It was a difficult scene in which a vehicle transporting laborers collided with a truck. Unfortunately, two persons were pronounced dead on the scene due to their massive injuries. Others were treated on the scene, including victims in serious, moderate and light condition".
The victims were transported from the scene by Magen David Adom to Tel Hashomer Hospital.
(YWN Israel Desk – Jerusalem/Photo Credit: MDA Spokesman Unit)