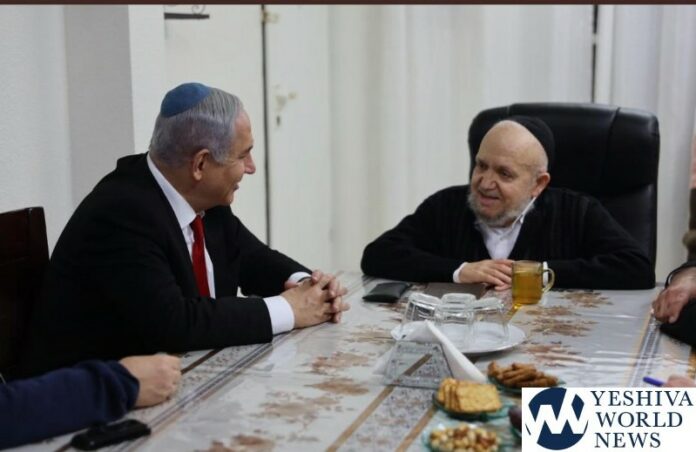 Prime Minister Binyamin Netanyahu is working hard to get the chareidi vote among registered Likud members in the upcoming party primaries. Towards achieving the goal, Mr. Netanyahu on motzei Shabbos visited Bnei Brak, meeting with HaGaon HaRav Meir Mazuz Shlita, Rosh Yeshivat Kisei Rachamim. The meeting was held in the rav's home.
The meeting was to have been held last week, but the prime minister was running late, leading to Rav Mazuz having to postpone it due to a medical procedure scheduled for the following day.
A close talmid of the rav, Shlomo Keri, was present for the meeting. Former Shas leader Eli Yishai did not take part in the meeting.
Persons close to Rav Mazuz explain that the rav is not going to endorse Netanyahu publicly, even if he feels he is the man for the job, as Rav Mazuz reportedly expressed admiration for Netanyahu's opponent, MK Gideon Saar, who also met with Rav Mazuz.
Rav Mazuz has spoken out harshly against the ongoing investigations against PM Netanyahu, citing in a normal country, this would not be the case, explaining the judicial system should wait until the end of his term to permit the prime minister to concentrate on running the country.
(YWN Israel Desk – Jerusalem)