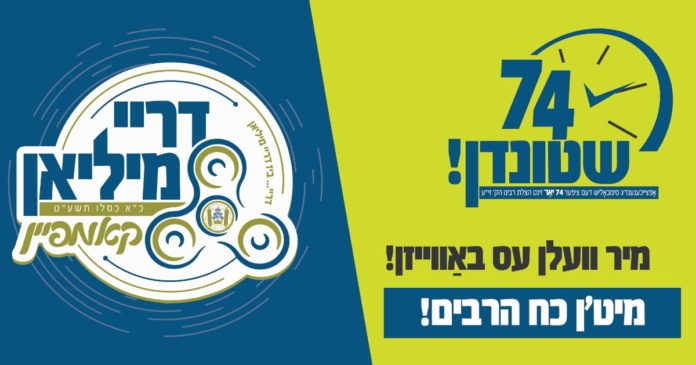 For the next 74 Hours, Mosdos Satmar Williamsburg will be stirring up the masses to raise $3,000,000!
They will be embarked on this campaign with Charidy inc., the worldwide leader in crowdfunded fundraising campaigns.
With the help of thousands of supporters from the Satmar community this initiative will unite communities.
74 years ago, the Satmar Rebbe ZY"A was miraculously rescued and freed from the hands of the Nazis, may their names forever be erased. To honor the 74th anniversary, for 74 hours Satmar Mosdos Headquartered at 82 Lee Avenue in Williamsburg, Brooklyn, serving over 11,000 sacred students, will raise $3,000,000 from the global Satmar community.
"We are excited to be part of this record-breaking campaign, and honored to be playing a role that will benefit the 11,000 students learning in the Satmar Schools" said Yehuda Kirsh a senior campaign consultant at Charidy.
"Working together with the full board these past few months, we have seen their utmost commitment and dedication. We wish them hatzlocho, and are confident their efforts will be successful", he added.
Please visit www.charidy.com/utaw to see the miracle in real time and donate generously.