It is clear to all who have been paying attention to the fight over the new curriculum guidelines imposed by the NYS Education Commissioner, that the battle is being led by HaRav Elya Brudny and Harav Yisroel Reisman, who have both been working tirelessly behind the scenes.
YWN published incredible videos by both of them explaining the severity of the new policy.
Now YWN can reveal some of the events which lead to the public campaign led by the Roshei Yeshiva.
First of all, both of these Rabbonim along with Rabbi Chaim David Zweibel of Agudath Israel traveled in early November to Albany and met with the Commissioner. She promised that it would be the beginning of a dialogue and would be in touch with them before any policy would be released.
But instead of dialogue, they have simply been ignored.
Just ONE HOUR before the policy was released, the Commissioner met with Rabbi Zwiebel and other members of her Advisory Committee to review the new guidelines with them. Even then, she refused to share a copy of the actual guidelines with them.
The Rabbonim then wrote a very respectful letter to the Commissioner dated November 27, 2018. The letter appears below online for the first time.
Now, it is December 15, and the Commissioner still hasn't responded.
Some dialogue.
Where is the response? Where is the respect? Where is the decency?
YWN has learned that Rav Brudny and Rav Reisman have coordinated countless meetings to work toward a solution.
They took the unprecedented step of taking to the pages of the WSJ to make their concerns known. And the response has alerted sympathetic people to our plight.
They will continue to work with all those willing to help.
A petition has been circulating that has already gathered tens of thousands of signatures.
Klal Yisroel needs to ramp up the pressure, and Klal Yisroel needs to keep up the pressure.
With Rav Brudny and Rav Reisman at the helm, if we get behind them and give our leaders the support they need, we will b'ezras hashem get the resolution we need.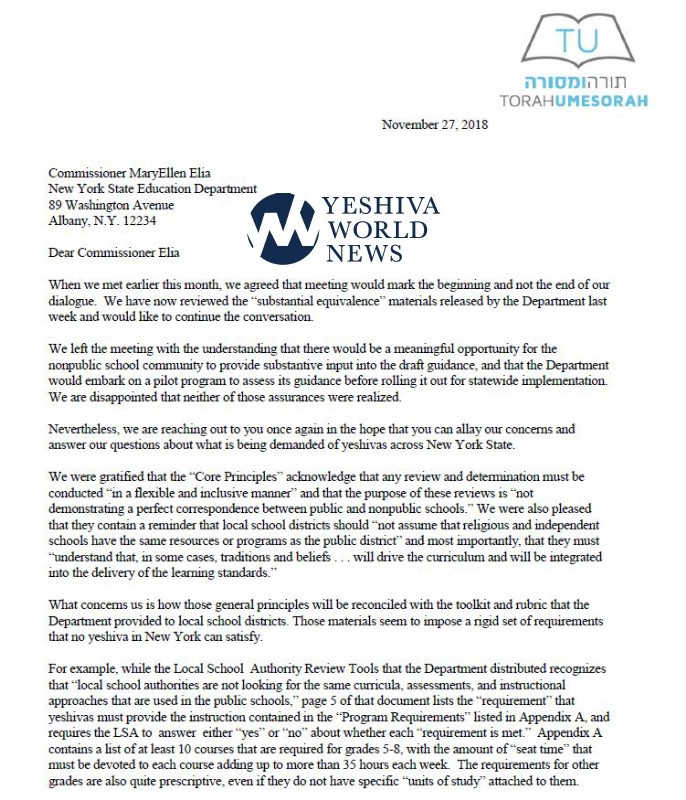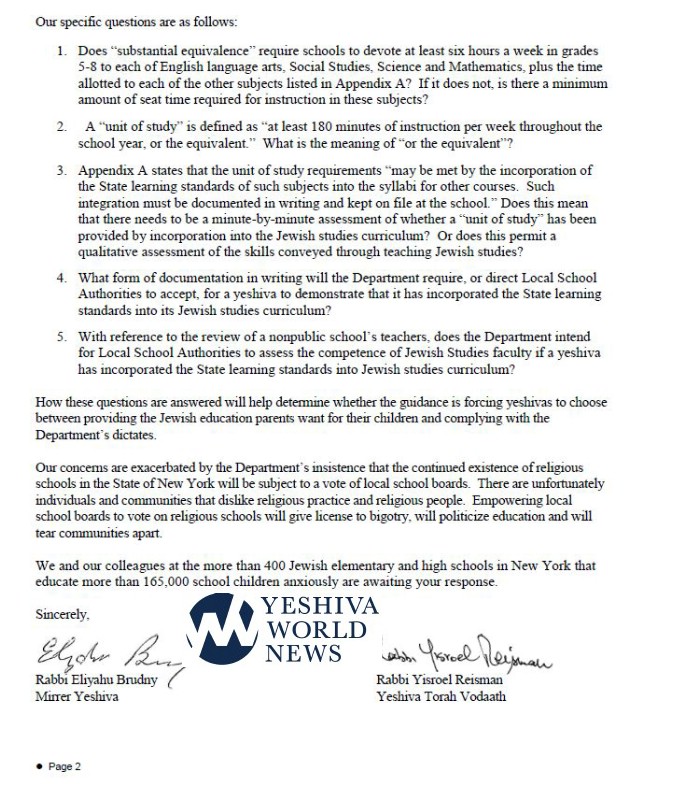 CLICK HERE TO ENLARGE THESE LETTERS
PREVIOUS YWN ARTICLES ABOUT THIS TOPIC:
SHOCK: New NYS Guidelines Require Yeshiva Elementary Schools to Teach AT LEAST 6 HOURS A DAY of Secular Studies
TROUBLE FOR NY YESHIVAS: Schools Could Face Pressure Under New Rules
Satmar Rebbe of Kiryas Joel DECLARES WAR Against NYS Education Department [FULL AUDIO CLIP]
READ THIS: HaRav Yaakov Bender Slams NY Times Over Anti-Yeshiva Article Following New NYS Education Policy
YWN Speaks Up, The New York Times Backs Down – But Look What They Did Instead
HOW NYS BLATANTLY LIED: New York State Promised Yeshivas STEM Funding, Instead They Gave Them Regulations
WATCH: Member Of Moetzes, HaRav Elya Brudny Describes Threat To Chinuch With NYS Education Policy
WATCH: HaRav Yisroel Reisman Describes Threat To NYS Chinuch As DRACONIAN, OUTRAGEOUS, & IMMEDIATE
NOW THIS: Yeshiva of Flatbush BLASTS NY Times Over Photo; Demands Retraction & Apology
UNPRECEDENTED: HaRav Elya Brudny & HaRav Yisroel Reisman Write Joint Op-Ed In WSJ About New Yeshiva Curriculum Guidelines
(YWN World Headquarters – NYC)