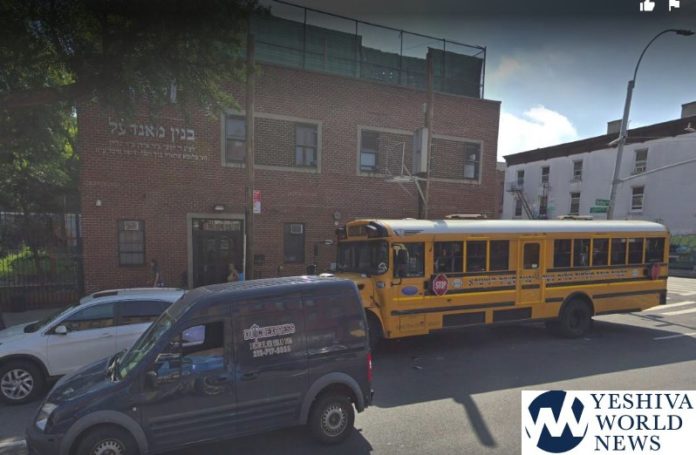 As part of their efforts to contain a significant measles outbreak, officials in New York closed more schools, issued more fines and lobbied the Legislature Monday to eliminate religious exemptions for required vaccinations.
Federal officials have reported 704 measles cases so far in the U.S. since Jan. 1, the most since 1994, which saw 963 cases during the whole year. New York City and suburban Rockland County account for the majority of the cases, almost all among members of Orthodox Jewish communities.
New York City's health department said Monday it has now issued summonses to 57 people for failing to abide by an emergency order issued this month requiring people living in certain parts of Brooklyn to get the measles vaccine. If those citations are upheld at a hearing, each person could get slapped with a $1,000 fine.
The schools, Tiferes Bnos (585 Marcy Avenue 11206) and preschool Talmud Torah D'Nitra (1007 Bedford Avenue 11205), will not be allowed to reopen until the NYC Health Department reviews and approves a submitted corrective action plan that addresses the ongoing lapses in complying with the Order. The Health Department had previously closed five schools—not including the programs shuttered today—for failing to comply with the Commissioner's Order. All five have been authorized to reopen under Health Department monitoring after submitting a corrective action plan that was approved by the Department.
"Schools that continue to disregard our direction during the outbreak will be closed down until they can prove to the Health Department that they will comply," said Health Commissioner Dr. Oxiris Barbot. "The reality is, the longer it takes schools and individuals to comply with our Order, the longer this outbreak will continue."
[UNPRECEDENTED: Over FIVE HUNDRED Doctors Serving Jewish Communities Across North America Say "VACCINATE"!]
In the state capital, Rockland County Executive Ed Day joined lawmakers at an event supporting the repeal of a state law allowing exemptions to immunizations based on religious beliefs.
Day, a Republican who's Rockland County's top elected official, urged for passage of the bill eliminating the religious exemption from vaccination as soon as possible.
"This bill would be a godsend," Day said during a news conference at the state Capitol. "To wait is a recipe for medical disaster."
The New York Alliance For Vaccine Rights, a Long Island-based group that opposes the legislation, said the bill would violate longstanding rights of "religious practices and bodily autonomy."
Individual Summonses
In addition, 57 individuals have received summonses for being non-compliant with the Emergency Order since the City began issuing summonses last week. Any person receiving the summons is entitled to a hearing, and if the hearing officer upholds the summons, a $1,000 penalty will be imposed. Failing to appear at the hearing or respond to the summons will result in a $2,000 fine.
Current Case Count
To date, 423 cases of measles have been confirmed since the beginning of the outbreak last October. 348 cases (82%) have occurred in Williamsburg (ZIP codes 11205, 11206, 11211, 11249), which has been under an Emergency Order issued April 9 requiring those who live or work in these ZIP codes to have been vaccinated with the Measles-Mumps-Rubella vaccine (MMR). A small number of cases have occurred outside of these neighborhoods but have, to date, not resulted in sustained transmission of measles.
Geographic Distribution of Cases
Eight individuals, including the initial case, acquired measles while travelling abroad to Israel (5), the United Kingdom (2) and Ukraine (1), areas with active outbreaks, highlighting the need for MMR vaccination for individuals traveling overseas. A small number of cases have occurred outside of the Williamsburg and Borough Park neighborhoods at the core of the current outbreak. These cases have been diagnosed in residents of Midwood/Marine Park (4), Brighton Beach (2), Flushing (2), Crown Heights (1), Bensonhurst (1), Far Rockaway (1) and the Hunts Point, Longwood and Melrose section of The Bronx (1). Seven individuals who do not identify as members of the Orthodox Jewish community have been diagnosed with measles since the outbreak began in October 2018. Of individuals who acquired measles in New York City, only one person diagnosed with measles during this outbreak does not report an exposure associated with the Orthodox Jewish community of Williamsburg, Borough Park, or other area with measles activity.
READ MORE:
[Hatzolah in NYC Joins Fight Against The Measles Outbreak – GET VACCINATED NOW]
[HISTORIC: Satmar Paper "Der Yid" Publishes Editorial in ENGLISH Blasting Anti-Vaxxers]
[NYC TAKES ACTION: Forces Closure of Satmar Child Care Center in Williamsburg Over Measles Outbreak]
[MORE ACTIONS TAKEN: NYC Health Dept Closes THREE MORE Satmar Williamsburg Yeshivas Due To Measles; Fines Parents]
[Israel: 10-Year-Old Boy Suffers Permanent Brain Damage After Getting Measles]
[HATE: NYC Bus Driver Makes Anti-Semitic 'Measles' Remark Towards Hasidic Man in Williamsburg]
[ANOTHER GENIUS: Watch This Williamsburg Anti-Vaxxer "Community Activist" Give Media Interview]
[WATCH THIS: Williamsburg Anti-Vaxxer Mothers Give Media Shocking Interview]
(YWN World Headquarters – NYC)