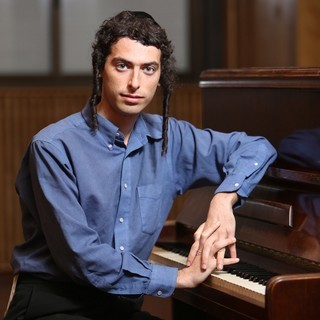 The Jerusalem District Court on the first day of Chol Hamoed Sukkos accepted an appeal filed by Israel Police. As a result, Spanish journalist visiting in Israel, Julio De LaGuardia, will remain incarcerated and will not be released to house arrest. The lower Jerusalem court ruled that De LaGuardia may remain under house arrest in the Spanish Consulate, but the District Court overturned that ruling at the behest of police.
De LaGuardia, 59, is the hit-and-run driver who struck and killed chareidi pianist Chaim Tukachinsky z"l. Police report De LaGuardia has admitted to operating a vehicle while intoxicated. The accident took place during the first night of Yomtov in the area of Paris Square in Yerushalayim, as reported by YWN-Israel.
Tukachinsky was heading back from the Kosel when the fatal accident occurred. Police have determined that De LaGuardia was intoxicated while operating the vehicle, and he fled the scene, only to be arrested about 90 minutes later by police in the Mt. Scopus area of the capital.
According to other reports, Tukachinsky was the son of a Kiryat Motzkin chareidi family and the 30-year-old pianist was a prodigy, having begun his musical career in the Kiryat Motzkin music conservatory. He was also a graduate of the Jerusalem Academy of Music and Dance, in both piano and composition. He was also a winner of the America-Israel Cultural Foundation (AICM) award for the years 2007-2009.
A published bio on the late young pianist adds, "Since 2012 Chaim is involved in musical theatre productions in Israel. Musically directed 'Seussical', 'Peter Pan', 'The Producers' (for Israel Musicals), 'Next to Normal', 'First Date', 'Merrily we Roll Along', 'Ordinary Days' (AACI Jerusalem), 'the Sound of music', 'Singin' in the Rain', as well as several Broadway reviews. Played in productions of 'Cats', 'Little night Music' and others.
"Chaim's output as a composer spreads upon wide and diverse spectrum of genres: music for solo instruments, chamber music, vocal music, choral and orchestral music, as well as music for the stage. Some of his works were performed by leading Israeli ensembles, such as the 'Caprisma' ensemble and the Beersheva Sinfonietta."
BeChadrei Chareidim spoke with the niftar's mother, Yael, who explained "He wanted to make a Kiddush Hashem with his music". She stated strongly that the driver should remain in custody for killing such a musical neshama.
Yael added her late son attended yeshiva ketana in Kiryat Motzkin but did not want to continue in yeshiva gedola. He realized his musical talents at a young age and wanted to realize these talents by pursuing a musical career. She added that he had a chavrusa to continue daf yomi, adding "I hope he goes directly to Gan Eden. He recited slichos in Elul at the Kosel and had an aliyah on Yom Kippur. He went to mikve before Sukkos and davened at the Kosel. He is mamosh pure and holy."
She added that he used to live in Geula but moved to Yaffo Street to be closer to the Kosel, where he davened every morning and night. Yael explained "he had a special connection to the Kosel".
The levaya began on Tuesday, 16 Tishrei, at 3:00PM at Shamgar in Jerusalem and kvura was in Har HaZeisim.
Written & published on the first day of Chol Hamoed Sukkos in Yerushalayim.
(YWN Israel Desk – Jerusalem)