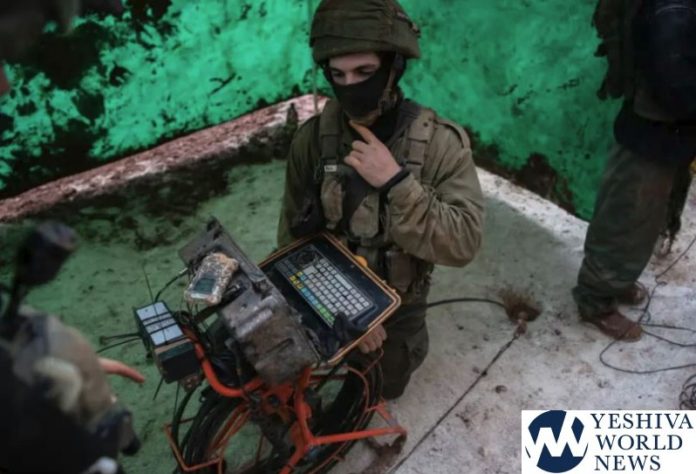 As Operation Northern Shield continues, the IDF says they have exposed a fourth terror tunnel built by Hezbollah, connecting from Southern Lebanon to Northern Israel, to be used by Hezbollah soldiers in an attack against Israel.
The operation, which began on 26 Kislev 5779, was launched to detect and destroy Hezbollah tunnels. On Sunday, 8 Teves, the IDF announced finding a fourth tunnel. In the IDF Spokesman's statement to the media, it said, the tunnel is now under IDF control and it no longer poses any threat.
The military said Sunday that it has placed explosives in the tunnel as part of an open-ended operation to identify and destroy the cross-border passageways.
Like the situation when the other tunnels were discovered, the IDF announces anyone found inside places his life in danger. The IDF is currently studying the tunnel's route, but at present, military officials are not revealing the location of the tunnel, stating "relevant local governments" have been brought up to date.
The IDF blames the Government of Lebanon for permitting the construction of the tunnels, which Israel insists is a violation of UNM Resolution 1701, the ceasefire agreement that ended the Second Lebanon War.
Lebanese officials continue to warn the continued IDF operations along its border will lead to increased hostilities, calling on Israel to pull its forces away from the border. It is stated that the military is aware that there are additional tunnels, which have yet to be exposed.
At the start of the operation, Prime Minister Binyamin Netanyahu announced that it will continue for as long as necessary, indicating it would be ongoing for at least "a number of weeks". Just a few days ago, Mr. Netanyahu visited the north and met with some of the soldiers involved in the operation.
The following video, released by the Israel Foreign Ministry, gives background information on the first three tunnels uncovered in the operation.
(YWN Israel Desk – Jerusalem)