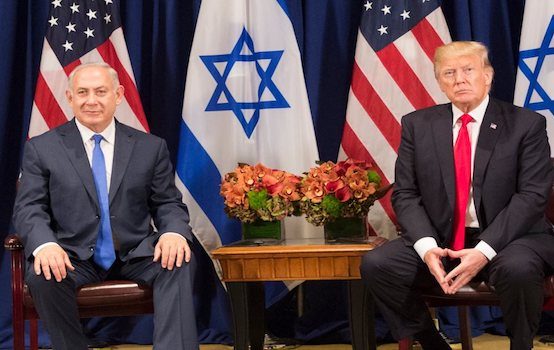 Now that the euphoria surrounding the United States moving its embassy from Tel Aviv to Jerusalem has passed, we are beginning to learn the price that will be paid for US President Donald Trump's so-called "deal of the century", his vision of a US-brokered peace agreement between Israel and the PA (Palestinian Authority). When the embassy was moved it was rumored that Israel will have to pay handsomely for the US gesture, moving its embassy.
According to a News13 report on Wednesday evening, quoting a source who was present during the briefing in Washington, the PA will be receiving control of 85-90% of Yehuda and Shomron as part of its Palestinian state, as well as a portion of a divided Jerusalem. There will be a land exchange as Israel is going to annex certain areas of Yehuda and Shomron, but the details of such a land exchange is yet to be revealed.
Despite empowered statements following the opening of the new US Embassy in Jerusalem and the undivided capital of Jerusalem will never be divided again, Trump's plan reportedly calls for East Jerusalem to serve as the capital of the Palestinian state. However, sovereignty over the Old City and immediate surroundings remain in Israel's hands. Regarding the Kosel and Har Habayis; Israel, the PA, Jordan and possibly other nations would administer the areas together.
According to the report, the large communities in those areas will be annexed while the "settlement outposts deemed illegal by Israeli law" will be removed.
For example, northern Shomron yishuvim including Yitzhar and Itamar would not be removed, but no additional construction will be permitted with the understanding they will be forced to "dry up".
In light of statements from PA leaders that they will reject any plan put forward by the PA, the White House expects that this will be the case here, while Israel will accept the plan.
This plan offers the PA less land than they were offered by former Prime Minister Ehud Olmert, and that plan was rejected too as according to the Olmert formula, Israel would only maintain control of 6.3% of Yehuda and Shomron in addition to Israel relinquishing control of other areas to make up for 5-8% of Yehuda and Shomron. Regarding holy sites, the Kosel and Har Habayis, Olmert spoke of international control of those areas.
For Naftali Bennet and his New Right party, the news could not have come at a better time as the various parties have begun campaigning for Knesset elections scheduled for April 9, 2019. Bennet will now campaign how a Likud-led government would result in the establishment of the State of Palestine, which entails the division of Jerusalem. The situation may also help the ailing Bayit Yehudi party, which according to an evening news report on Wednesday, failed to enter Knesset as it failed to garnish sufficient votes to pass the minimum threshold.
…Over the coming period, unnamed sources will peddle narratives to the media & others based on motivations that are far from pure. Peddling false, distorted or biased stories to the media is irresponsible & harmful to the process. Israelis & Palestinians deserve better…

— Jason D. Greenblatt (@jdgreenblatt45) January 16, 2019
…I highly recommend that people listen only to official statements directly from @POTUS, @USAmbIsrael, Jared Kushner, or me about the plan.

— Jason D. Greenblatt (@jdgreenblatt45) January 16, 2019
(YWN Israel Desk – Jerusalem)