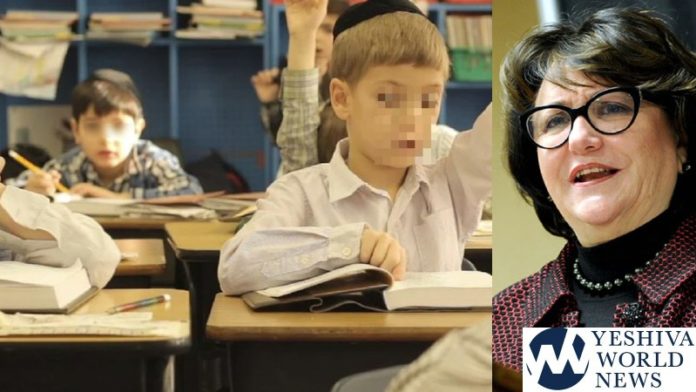 The Achdus among Klal Yisroel has been incredible.
More than FIFTY THOUSAND parents have already signed a petition. Community activists from the Chassidish and Modern Orthodox are all working together behind the scenes obtaining support from elected officials.
It seems that most people understand the severity of this new NYS Education policy. Catholic school leaders have come out strongly against the new policy.
But some in our community still aren't sure.
So YWN will break it down for you.
We choose to send our children to Yeshivos. We pay a hefty sum of money out of our own pockets for that, and we have the right to decide how and what our children should be taught and learning. We trust our Roshei Yeshiva, Menahlim, Rabbeyim, principals and teachers to educate our children. They are doing a phenomenal job overall in the education of more than a hundred thousand Yeshiva students in New York every year.
Do we want them to continue to educate our children, or are we going to allow NYS Education Commissioner MaryEllen Elia to decide how many hours of Chumash and Gemara our children should be learning?
Let's ask that again. Are you, a parent of a child enrolled in a Yeshiva in NYS prepared to allow Mrs. MaryEllen Elia to dictate to you – Mrs. Schwartz from Flatbush, Rabbi Weiss from Kiryas Joel, Mr Sommerstein from Queens – how much Chumash and Rashi your child should be taught, who should teach it to them and what time of the day they learn it.
[SED HEARD YOUR PROTEST: Important Open Letter To Yeshiva Parents About New York State Education Dept]
We know the answer.
We will never allow this woman to dictate to us how to teach our children.
But for all those still unsure of how serious this is, get this.
This coming Thursday, the State will begin training the school districts across the state how to do inspections in Yeshivas (and all private schools). They will give detailed instructions of what to look for, including which classes need to be offered at each grade level, how many hours these classes must last, and how to evaluate yeshiva teachers.
Catholic schools have uniformly told the State that they will not cooperate with these inspections. But expect the first Yeshiva that refuses to work with inspectors to face severe sanctions.
YWN has learned that at these trainings the State may walk back some of the most ridiculous aspects of the new guidelines.
YWN will keep you informed of any developments.
Harav Yaakov Bender, HaRav Elya Brudny and Harav Yisroel Reisman have asked YWN to release this joint statement:
We are grateful for the outcry of Klal Yisroel, protesting the new State guidelines. It is your chorus of concern that has brought the issue prominence. We must keep the pressure up. Your interest is what will bring hatzlachah in this battle for the heart and soul of our yeshivos,
You have protested specific aspects of the guidelines that would set the curriculum at our yeshivas, and mandate long hours of secular study. They want to evaluate which of our teachers are worthy of the job.
We want to impress upon you that this is all part of a bigger picture.
What is at stake is the autonomy of our yeshivas.
Are decisions about yeshiva curriculum, schedule, educational emphasis and hiring to remain in the hands of the Menahalim, Roshei Yeshiva and Vaad Hachinuch, or will they be dictated by the State Education Department and local school districts.
This is the issue.
Never in our long history in this medinah shel chessed have we experienced such an attempted intrusion into the independence of our yeshivas.
With your continued help, Klal Yisroel will be zocheh to the protection and preservation of the autonomy of our mosdos hatorah.
Our Yeshivas do a wonderful job. Is there room for improvement? Of course. There always is, and always will be. But just look at the thousands upon thousands of successful frum professionals and business people that our yeshivos have produced over the past 75 years.
Nearly zero crime, drugs or violence.
Has Commissioner Elia checked with the police departments near every Yeshiva to see how many 911 calls there have been for a violent incident in the past 75 years?
As one prominent Rov in Flatbush remarked last Shabbos, "One just needs to look at the fact that public schools have metal detectors to protect the students and staff from the other students in the school, while our Yeshivas need security to protect students from those outside the yeshiva. We are obviously doing something right".
PREVIOUS YWN ARTICLES ABOUT THIS TOPIC:
SHOCK: New NYS Guidelines Require Yeshiva Elementary Schools to Teach AT LEAST 6 HOURS A DAY of Secular Studies
TROUBLE FOR NY YESHIVAS: Schools Could Face Pressure Under New Rules
Satmar Rebbe of Kiryas Joel DECLARES WAR Against NYS Education Department [FULL AUDIO CLIP]
READ THIS: HaRav Yaakov Bender Slams NY Times Over Anti-Yeshiva Article Following New NYS Education Policy
YWN Speaks Up, The New York Times Backs Down – But Look What They Did Instead
HOW NYS BLATANTLY LIED: New York State Promised Yeshivas STEM Funding, Instead They Gave Them Regulations
WATCH: Member Of Moetzes, HaRav Elya Brudny Describes Threat To Chinuch With NYS Education Policy
WATCH: HaRav Yisroel Reisman Describes Threat To NYS Chinuch As DRACONIAN, OUTRAGEOUS, & IMMEDIATE
NOW THIS: Yeshiva of Flatbush BLASTS NY Times Over Photo; Demands Retraction & Apology
UNPRECEDENTED: HaRav Elya Brudny & HaRav Yisroel Reisman Write Joint Op-Ed In WSJ About New Yeshiva Curriculum Guidelines
DISRESPECTFUL: Roshei Yeshiva Met With NYS Education Commissioner; Were Given Assurances, AND THEN IGNORED
SED HEARD YOUR PROTEST: Important Open Letter To Yeshiva Parents About New York State Education Dept
(YWN World Headquarters – NYC)